---
Outrageous Medical Costs in U.S. Ports Are Even More Extreme in the U.S. Gulf Area (Texas, Alabama and Louisiana)

Gaining a quick understanding of maritime healthcare can save your company thousands of dollars. Here's a quick rundown.
In the United States, maritime healthcare involves two main groups—healthcare providers and medical service companies. In addition, multiple roles exist within each group.
Healthcare Providers
Healthcare providers are medical facilities and medical professionals. Medical facilities are hospitals and clinics. Medical professionals are doctors, nurses, and other medical specialists who provide services to crew members.
Healthcare providers make money by charging a fee for each service they provide to a patient. United States laws prohibit healthcare providers from paying commissions to people or companies who refer patients to them.
Medical Service Companies
Medical service companies coordinate medical care for crewmembers and ship owners. The United States maritime healthcare market generally consists of two types of medical service companies, which you can classify as—medical managers and medical brokers.
Why Agents Should Not Be Tasked with Providing Healthcare Services

In the United States, ship agents may be able to send crew members directly to healthcare providers, but they shouldn't. Working with providers can be challenging for already overworked agents. When agents add medical services to their already long list of duties, expensive and often unnecessary emergency room visits frequently occur, because going to the emergency room is the most expedient action an agent can take on short notice.
Medical Managers
Medical managers like SphereMD are medical service companies with doctors and nurses on staff. They manage medical care on behalf of agents, P&I clubs, correspondents, ship owners, and ship managers. Medical managers generally charge hourly rates and fees based on a set percentage of medical bill savings achieved.
Medical managers NEVER pay commissions to other organizations.
Medical Brokers
Medical brokers are medical service companies that contract with specific healthcare providers for discounted rates, and they provide medical services at the request of agents and transportation providers. When given a choice, many P&I clubs and correspondents avoid the use of medical brokers.
Medical brokers seldom have doctors on staff. Instead, they focus on setting up arrangements with providers to send patients to specific facilities and medical professionals for a substantially discounted rate, sometimes up to 65%, which ultimately benefits the brokers.
Here's how it works. Medical brokers forward full-cost medical bills from providers to agents, for payment-in-full by ship owners or P&I clubs. Medical brokers make money by keeping the difference between each medical bill's full amount and the prearranged provider discounted rate. Some medical brokers may pay commissions to transportation providers and other companies who send medical cases their way.
The tables show an example of a hypothetical medical broker's cost breakdown for a crew member's six-day hospitalization.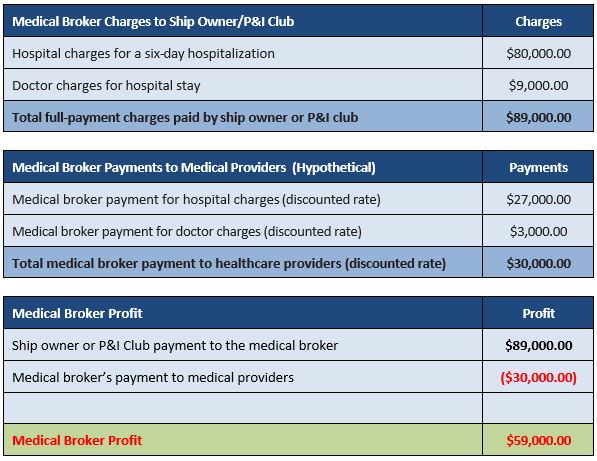 Even if the $59,000.00 profit is reduced by a 20% discount offered to the P&I club for the initial gross bill for services, the profit for the broker would still be $41,200. The question remains, does the broker's involvement warrant such a high commission? In addition, the calculations might be even more complicated and less transparent if the broker also paid a commission to a referring party.
Again, these examples are hypothetical but based on real world cases. Are you, as a ship owner or P&I club, okay with the bottom line economics of these cases?
Medical brokers can use this business model because by tend to avoid transparency. In other words, medical brokers usually avoid disclosing the discount relationship they have with providers or the actual costs they are paying for medical services.
Are you okay with a broker making more than the hospital?
The Transparency Test
Telling the difference between medical brokers and medical managers can be tricky. To help you understand your medical service provider and avoid paying excessive medical costs in the United States, SphereMD recommends asking the following five "transparency" questions for all major medical cases*:
1.) Ask the medical service company: Can you provide evidence of payment in full to the provider?
Before paying medical bills, request evidence of payment in full to the hospital from the medical service company. This information can reveal if any hidden discounts were accepted. Medical managers will gladly provide such evidence; however, medical brokers may resist or outright refuse to provide this information.
2.) Ask the medical service company: How much profit is the medical service company making on the billing?
Request information about how much profit the medical service company is making on the billing. The cost of using a medical service company should be transparent, reasonable, and predictable, such as based on a predetermined hourly rate or percentage of savings. A medical manager will share this information, but medical brokers may resist or refuse this request.
3.) Ask the medical service company: Would you be willing to stand down and no longer be involved with a case, if necessary?
Ask the medical service company if it would be willing to stand down and no longer be involved with a case. A willingness to step down shows flexibility, fair dealing, and the desire to work on behalf of the ship owner or P&I club. A company that refuses to step down implies a forced relationship and poses a barrier to transparency. Medical managers will happily comply with this request, but medical brokers may resist or refuse to step down.
4.) Ask the healthcare provider: How much was the bill settled for after the fact?
Find out from the provider facility (the hospital, clinic, or other facility) how much the bill was settled for after the fact. You can then use that number to cross-reference with the medical service company's invoice. A medical manager's invoice will transparently show the settled amount. A medical broker's invoice will not show the settled amount.
5.) Ask the healthcare provider and medical service company: What were the detailed charges?
Request to see a detailed account of all provider charges. Such details are necessary to understand how much providers have discounted their fees for the medical service company. Medical managers will provide the details, but medical brokers may resist or refuse this request to avoid transparency.
Proactive Steps
Armed with this information about medical providers and medical service companies, ship owners and P&I clubs can better control their costs. SphereMD believes that the best practice is to work with agents to define the steps to be taken for any crew medical care before the need arises. We also recommend that your P&I club is contacted as soon as any non-routine injury or illness occurs. Finally, ship owners may consider hiring a medical manager to represent all U.S.-based medical needs to ensure transparency, every step of the way.
Injury Care Done Right
At SphereMD, we have handled serious injury situations many times, and helped thousands of vessels and crews avoid unnecessary delays. We know what we're doing, and we're ready to go when tragedy strikes.
When a crewmember was pinned to a vessel by the gangway, we made sure he was immediately taken to the hospital for treatment. Then, we dispatched a technician to get a sample from the patient within 1 hour of his arrival at the hospital. As soon as we had the sample, we got it in for testing that same day and had results before the patient returned to the vessel. Compare our expedited process to the other real event described in the sidebar, when the 2nd Engineer cut off the tip of his finger.
Nobody wants to think about accidents and serious injuries, but failing to report or waiting until the USCG requests testing can keep your ship stuck for 3-5 days. At an estimated $20,000.00 per day, a little planning saves big.
Two Strikes and You Are Out!
SphereMD recommends a "Two Strikes and You Are Out" policy with major medical cases*. We know that's one less strike than usual, but medical care is too costly to wait for a third mishap. We recommend that you avoid any medical service company that resists or refuses to respond to any of the transparency questions twice. Once a company strikes out, instruct your agents to avoid the medical service company by NAME in your voyage instructions.
*We define major medical cases as having an average bill of more than $5,000. Reviewing small, expediently run cases tends to be more expensive to review than the amount of savings that could be realized.