---
USCG Drug Testing: Delays, Dollars, and Sense-Costs of Not Reporting

Imagine getting one of these calls:
"Your captain slipped off a ladder and landed headfirst! The captain is being treated at a medical  facility, and a replacement captain is already onboard. Unfortunately, the USCG won't let your vessel leave. They want to see the drug and alcohol test results, but tests were never taken…"
 "A cadet on your vessel injured his finger. He was treated in port and repatriated after being found unfit for duty. Your vessel's ready to go as soon as the drug test results are in. For now, everyone's just waiting around."
These scenarios are based on true accounts of onboard injuries. Injuries occur, and when they do, they can cause extended delays and devastating losses, well beyond the initial tragedy. With proper training and planning, some of your losses can be mitigated when an injury occurs on your vessel.
Did You Know?

In the United States, medical pricing is unregulated. A CT scan can cost $350 in one port or facility, and $11,000 in another.
Reminder: Always contact your P&I Club when an injury or illness requires more than basic first aid onboard the vessel.
When an injury occurs that requires more than first aid, captains, crewmembers, and shipping agents should immediately think about drug and alcohol testing. Train and remind your crew that drug and alcohol testing must be conducted as soon as possible after an injury. This helps your vessel avoid delays, and it's a federal regulation. By law, everyone directly involved in an incident must be chemically tested as soon as possible:
Drug testing is mandatory within 32 hours following a serious marine incident
Alcohol testing is mandatory within 2 hours following a serious marine incident
If alcohol testing cannot be conducted within 2 hours due to safety concerns directly related to the incident, testing must be done as soon as possible but no later than 8 hours following the injury. All inspected vessels certificated for unrestricted ocean routes must have an alcohol breath-testing device on board.
Directly Involved
You may have noticed that directly involved is mentioned in the federal regulations. A directly involved person is anyone whose order, action, or failure to act may have contributed to an injury. In addition, a law enforcement officer, such as a Coast Guard officer or a state or local police officer, may decide whether a person was directly involved in an injury. Once a person is identified as possibly being directly involved, the required alcohol and drug testing must be completed.
Coast Gaurd Forms
Along with testing, two Coast Guard forms must be submitted to the appropriate Officer in Charge, Marine Inspection following a serious injury:
CG-2692, Report of Marine Accident, Injury or Death
CG-2692B, Report of Required Chemical Drug and Alcohol Testing Following a Serious Marine Incident
As you might suspect, drug test results are not always available when the forms are submitted. In those cases, the marine employer must report the results—positive or negative—as soon as the results are available.
The Timeline
The testing and analysis process involves a number of agencies and takes time. This can be seen in our simplified timeline diagram to the right.
At a minimum, the process takes several days. Every delay in the initial sample collection slows down the entire process. This can quickly grow into an enormous problem because vessels often cannot operate or are held by USCG until negative results are confirmed. When you preemptively train your crew and plan for emergencies, you gain some control over your vessel's delays.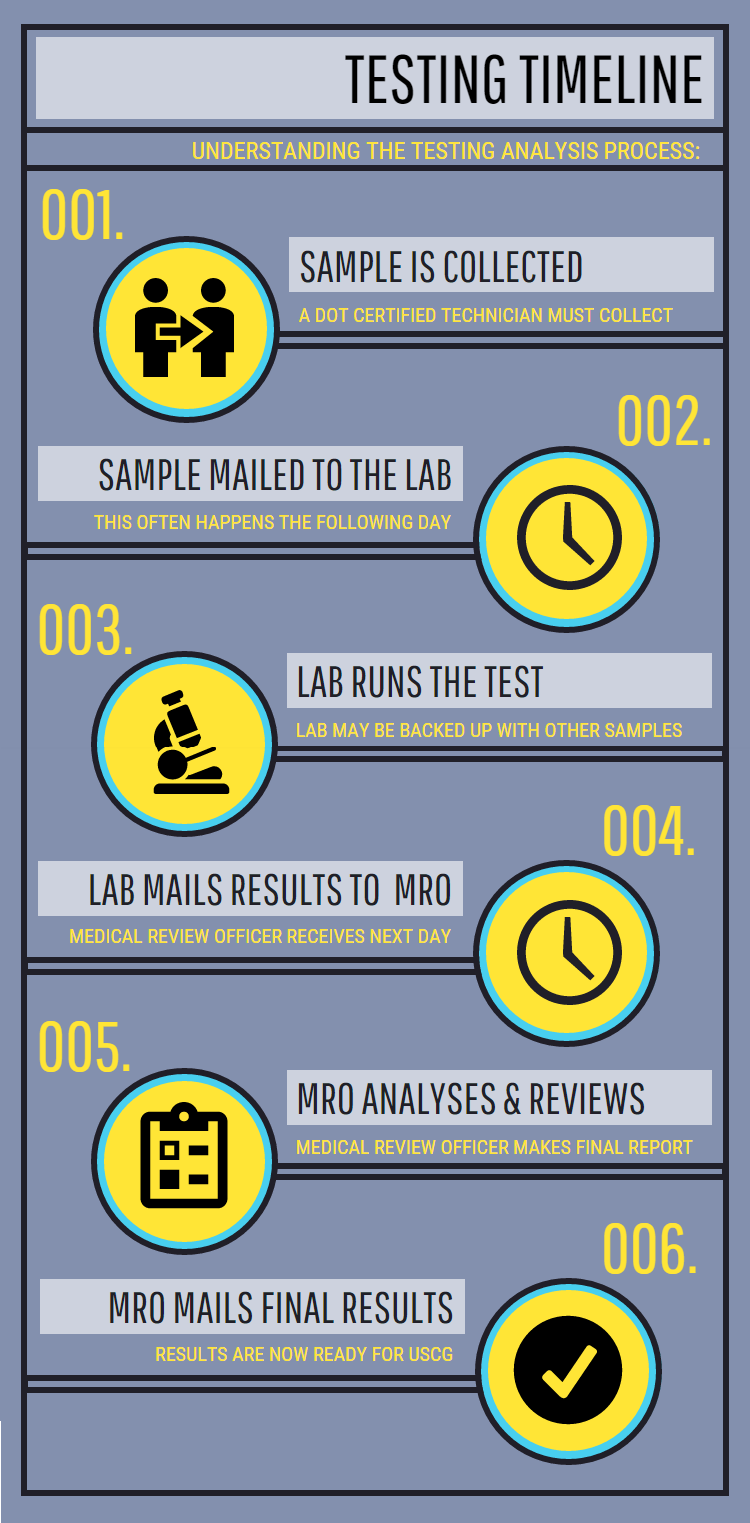 Injury Costs
Recently, a 2nd Engineer was working on a motor. Everything was humming along until he cut off the tip of his right index finger. Immediately, an ambulance rushed him to the hospital. The vessel was due to depart for Japan in three days. At this point, the path to recovery could go two ways—what actually happened and what could've happened.
What Actually Happened—Days of Delays
Here's what happened in the real situation. Try not to cringe as you feel the days slip by:
The patient was treated at the hospital and returned to the vessel.
The marine inspector reported that he required drug and alcohol testing results.
The testing was performed on the patient two days after the initial report of injury.
The test was mailed to the lab.
The lab sent the results to the Medical Review Officer (MRO).
The MRO confirmed the results and sent them back.
As you might imagine, those six steps took several days—but that's not the end of it!
After receiving the initial test results, the USCG reported that they also needed drug and alcohol test results from two other crewmembers, who were "involved" in the accident but were not yet tested…
What Could've Happened—A Quicker Way
If the vessel owner had been prepared, days could have been saved. While the patient was being treated, required actions could have begun immediately and looked something like this:
The injury was reported correctly and drug testing was performed immediately on everyone involved in the accident.
The tests were mailed to the lab.
The lab sent the results to the MRO.
The MRO confirmed the results for everyone involved in the accident and sent them back.
The engineer was back onboard, crewmembers were cleared, and the vessel sailed with minimal delay.
In the real situation, the USCG would not authorize the vessel to sail until they received test results for all crewmembers involved in the accident. Vessels need people in certain positions who hold specific certifications. Leaving the crewmembers was not an option. Ultimately, the vessel was delayed two additional days, which cost a minimum of $20,000.00 per day.
Preparation
Be prepared—by far, that's your best plan. The USCG inconsistently enforces drug testing. Some ports are stricter than others. Instead of hoping for the best, you need an action plan that's ready to go when you need it. In our experience, we've found that you can avoid vessel movement delays and reduce costs after an injury if you:
Make testing arrangements
Have shore-side support for all potential drug-testing needs—get someone to the ship to get samples taken as quickly as possible.
Report, report, report! Report all injuries requiring more than first aid to the marine inspector.
Teach and remind your captain, crew, and shipping agents to think "drug testing" as soon as a serious injury occurs.
Injury Care Done Right
At SphereMD, we have handled serious injury situations many times, and helped thousands of vessels and crews avoid unnecessary delays. We know what we're doing, and we're ready to go when tragedy strikes.
When a crewmember was pinned to a vessel by the gangway, we made sure he was immediately taken to the hospital for treatment. Then, we dispatched a technician to get a sample from the patient within 1 hour of his arrival at the hospital. As soon as we had the sample, we got it in for testing that same day and had results before the patient returned to the vessel. Compare our expedited process to the other real event described in the sidebar, when the 2nd Engineer cut off the tip of his finger.
Nobody wants to think about accidents and serious injuries, but failing to report or waiting until the USCG requests testing can keep your ship stuck for 3-5 days. At an estimated $20,000.00 per day, a little planning saves big.
Beware...
Some doctors along the eastern seaboard may be overcharging. This month, we are calling attention to independent east coast providers who, based on our experience, have rates that are sky high compared to typical rates.
Example physician charges:
$600-$750 to see a patient
(typical rate: $200–$400)
(typical fees: $200–$400)
To avoid run-ins with unnecessary costs, we recommend contacting your P&I Club for port specific medical advice.
We also recommend that all Owners and Operators hire a medical management company to handle ALL medical requests for US ports of call.
SphereMD facilitates the best medical care for you and your employees,
efficiently and affordably in all U.S. ports and Panama.